Published
Sunday, February 7 2021
Updated
Monday, August 21 2023
Tara Britten
Content Lead
Tara is the in-house content lead at Digistorm, tending to all content needs, big or small! When she's not writing copy or managing the Insights editorial calendar, Tara is passionate about supporting theatre and live music.
With large audience groups and high user activity, social media remains to be one of the most effective digital channels for marketing your school to prospective families.
Here's the thing about social media success though: consistency is key. It takes time to grow and nurture your social media accounts. Your team needs to schedule posts, monitor communities, report on analytics, keep an eye on emerging trends – and that's just for one channel!
If you want to set yourself to be more productive, we recommend stepping it up with a social media management tool. But, which one should you choose? There's a wide range of free and paid tools available to suit your needs. The goal should always be simplicity — the tool should make your life easier, not more complicated. We're talking about automating processes to save time, enhance your organization, and build brand awareness.
To save you the trouble of needing to read review after review, we're put together a list of our top social media management tools in no particular order.
Top social media management tools for school marketers
1. Hootsuite
Hootsuite is possibly one of the most well-known platforms for social media management. It's an all-in-one platform that enables you to set up a custom dashboard to gain a complete view of all the social media feeds you're responsible for looking after. You can schedule new social posts across multiple networks and create custom reports to analyze your performance.
It's the perfect platform to publish, engage, monitor, advertise, and analyze all aspects of your social media accounts. The dashboard may look a little outdated compared to your newer social media tools, but it's easy to navigate and can be accessed by multiple team members. Hootsuite also offers its Hootsuite Academy — a resource hub where your team can access industry-leading courses and certifications in various areas of social media. One of the key benefits of Hootsuite is that it offers both free and paid plans to suit all needs. Check out their website to learn more.
2. SocialPilot
Moving onto SocialPilot now, this is a go-to platform for collaborating with your school's marketing team. With integrations available for all major social media platforms like Facebook, LinkedIn, and TikTok, users can actually integrate with up to 10 platforms at once — that's on the cheapest plan too! Aside from being able to manage content within SocialPilot's calendar, another feature we love is the social inbox. Here you can manage comments, messages, and posts from multiple channels all in one centralized place — now that's efficient!
3. Buffer
Buffer is another popular platform that provides a suite of products for publishing, engagement, analytics, and team collaboration. With a key focus on content management, Buffer enables you to draft posts, coordinate with your team members, and build marketing campaigns. It's one of the more user-friendly platforms available with an efficient 'drag and drop' content organizer to help add content to your calendar.
It also includes some unique features such as showing the RSS feed, the option to add a browser extension, and access to their image curator tool, Pablo. On their free version, you can add up to three accounts and schedule 10 social messages in advance. But, if you're keen on Buffer, it's important to know that it comes with a price. Take a look at more information about their monthly fee.
4. Sprout Social
Sprout Social sets itself apart by providing users with customer relationship management (CRM) and reporting, content management, and scheduling. The reporting feature saves you time by generating comprehensive reports for all of your social platforms in one place. Users also enjoy the handy smart inbox feature that allows them to view, monitor, and respond to all of their messages.
Sprout Social also has a reputable name for its automation tools that will help your marketing team save time and streamline processes. The automation features include the bot builder for Twitter and Facebook, SproutQueue, and advanced Twitter automation. All of these extra features mean that it's a slightly more expensive tool, with three tiers of membership that you can choose from depending on your needs.
5. Sendible
Although it may be one of the lesser-known options, Sendible packs a punch when it comes to integrations. In addition to all the social media management features you would expect, this platform also integrates with platforms such as Canva and YouTube to streamline even more processes for your team. It's a tool made for large-scale social media campaigns, with the ability to perform bulk scheduling, calendar view, RSS feeds, and detailed or quick version reports all in one easy-to-use platform. Learn more about Sendible's pricing options.
When it comes to social media management tools, we've really only touched the tip of the iceberg. These are our top four, but there are still a bunch of other social media management tools out there and which platform you choose to go with will largely depend on the specific social media goals you've set for your school. If you're on the hunt for user-friendly design tools that are guaranteed to boost the aesthetics of your next social post, we recommend checking out linearity.io or Canva.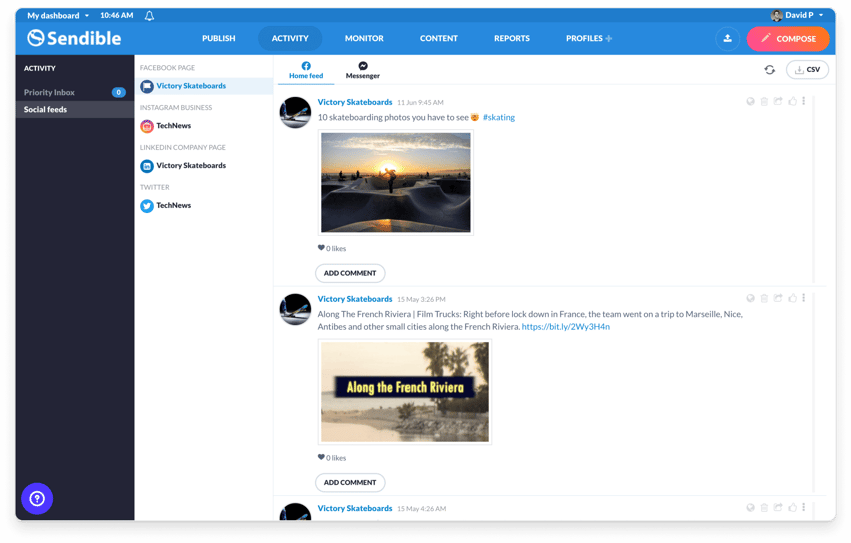 Are you interested in optimizing your social media platforms? Explore our related articles below.
Newsletter
Get Insights to your inbox weekly